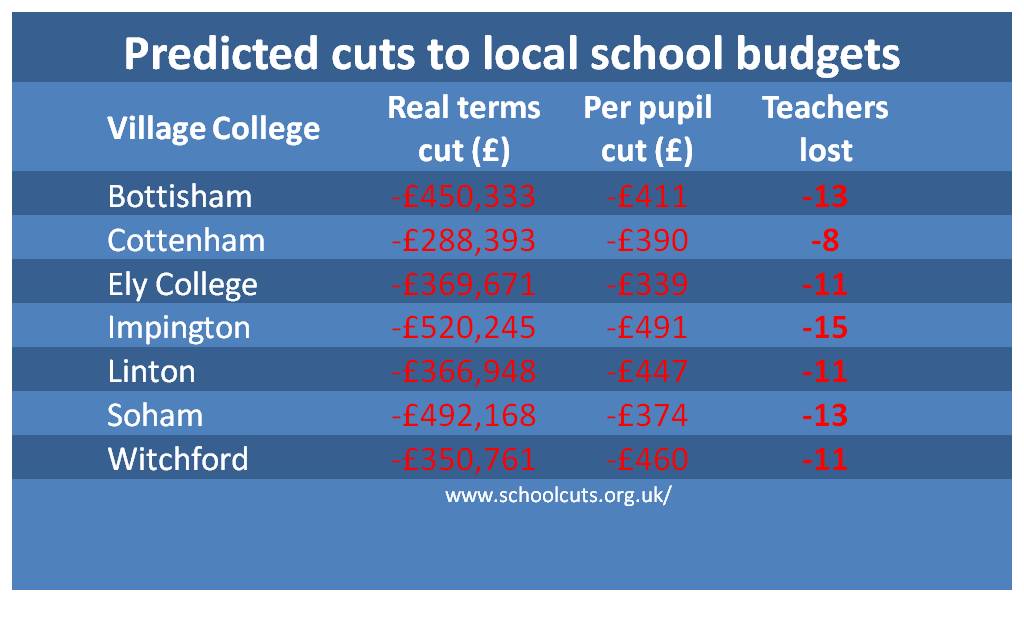 Labour will deliver a great school in every neighbourhood.  Labour will invest £5bn in schools, paid for by corporations who benefit from a well educated, well trained nation.
Check the graphic or visit SchoolCuts.org to see how many teachers or teaching assistants your local school will loose. The cuts will mean larger class sizes, fewer options at GCSE, less support for pupils with needs. It will mean more begging letters where head teachers are reduced to asking parents to fund basics in their school.
In 2015 Lucy Frazer promised fair funding for Cambridgeshire schools. At that time we were among the lowest funded education authorities. Now that Lucy and her Tory government have delivered on her promise we remain among the lowest funded education authorities.
Huw Jones says "My children went to my local schools in SE Cambridgeshire and I'm really proud of the Village College ethos. Lucy wants to bring back the old, damaging system of Secondary Moderns and Grammars. Our local schools receive £4.7k per year for each child. The local schools where Lucy lives in St John Wood receive £8.4k per year. How is that fair?
In 1997 Labour said we had three priorities 'Education, Education, Education'. We transformed schools, respected teachers, and under the 'Funding Future Schools' initiative and we mended the leaking roofs or replaced dilapidated schools. We did it before and we'll do it again.